What is Corona Virus?
According to WHO (World Health Organisation), Corona Virus is the large family of the virus which causes illness ranging from the common cold to very critical diseases (mainly respiratory diseases). The word "corona" comes from the Latin word which means "crown" or "halo" which indicate its structure as observed under the microscope. It is a Zoonotic Virus which means it transmitted between animals and people as the WHO says. The virus from the corona family which starts spreading from Wuhan, China is named Novel Corona Virus 19.
What is the difference between Corona Virus and COVID-19? What COVID-19 Stands for?
"CO" Stands for Corona, "VI" for Virus and "D" for Disease. Formally COVID-19 stands for Corona Virus Disease. That means the Name of this Virus is Corona Virus and the disease caused by it is known as COVID-19.
What are the symptoms of COVID-19?
According to World Health Organisation report based on more than 60,000 confirmed cases, These are the Primary Symptoms of COVID-19 (Corona Virus Infection) along with the percentage (%) of observation in such cases are:-
High Temperature / Fever. (coronavirus – fever about 37.8°C or 100.04°F) | [Observed in 88 % of cases]
Dry Cough. (continuous cough) | [Observed in 68 % of cases]
Tiredness. [Observed in 38 % of cases]
Coughing up sputum. | [Observed in 33 % of cases]
Shortness of breath or breathing difficulties. | [Observed in 19 % of cases]
Aching muscles or joints. | [Observed in 15 % of cases]
Sore throat. [Observed in 14 % of cases]
Headache. | [Observed in 14 % of cases]
Blocked nose. | [Observed in 5 % cases]
Coughing up blood. | [Observed in 1 % of cases]
Pink/redness of the whites of the eyes. | [Observed in 1 % of cases]
NOTE: The study shows that sometimes the person is tested as positive but didn't show any symptoms at all, mostly in young people.
How Much Time Does it take to develop or appear symptoms of COVID-19?
If you have mild disease, fever is likely to settle within a few days and you are likely to feel significantly better after a week – the minimum time at which you can leave self-isolation. You may continue coughing for a couple of weeks – So keep following the precautions as mentioned in very below sections. But in general, it takes two (2) to fourteen (14) days to appear the symptoms from the day of exposure.
The percentage of people severe enough to be in the hospital who need ICU treatment is:
The percentages of COVID-19 infected people of severe enough to be in the hospital who need ICU treatment are:-
Age fewer than 40 -> 5% Cases
Age 40-49 -> 6.3% Cases
Age 50-59 -> 12.2% Cases
Age 60-69 -> 27.4% Cases
Age 70-79 -> 43.2% Cases
Age 80 above -> 70.9% Cases
How Corona Virus Works?
The above picture is of Corona Virus which is observed with the help of an electron microscope. As you can see there is a structure over the surface of the Corona Virus which is known as the spike protein. These Spike Proteins help the virus to enter into the cells of our body in order to multiply themselves and the infection begins. There are mainly three types of proteins over the surface, these are:-
1. E Protein
2. S Protein and
3. M Protein
And these three proteins are the main tool of viruses to spread infection.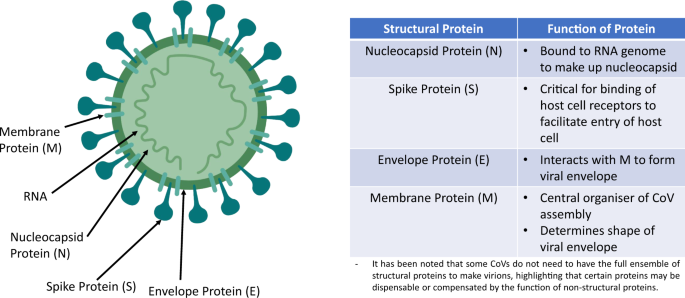 STAGES OF TRANSMISSION OF NOVEL CORONA VIEUS / COVID 19
There are mainly four stages of transmission of Covide-19 as mentioned below:
Stage 1:- Initial Stage of Transmission (Imported cases only)
When the infection of the virus is observed only in those who came from different countries. then it is said to be stage 1 for that country where they arrived.
Stage 2:- Stage of Local Transmission
This stage is also known as the stage of local transmission, in which the infection starts spreading from an already infected person to another in local areas. In this stage mainly two modes of infection transmission may be observed.
i. Other family members, friends and other people who came in contact with the infected person
ii. Or the health workers who attend or came in contact with them somehow.
Stage 3:- Stage of Community Transmission
This stage is also called Community Transmission. If the country is said to be in such a stage, that means those people of the community are start getting an infection that neither traveled from abroad nor came into contact with the infected person. This is a very critical situation for that country and it became despite taking very strict measures it becomes hard to control the situation.
Stage 4: Epidemic
This is the last stage and the most critical stage of Infection in which it became almost impossible to prevent the infection with any possible measures.
These are the four stages of any kind of infection spread among any country including Noble Corona Virus or COVID-19.
TRANSMISSION OF COVID-19 VIRUS
Firstly the virus transmitted from bats to human beings and then it starts spreading from person to person. This virus can be spread or transmitted in three ways:-
1. Respiratory Droplets –
2. Contact Transmission –
3. Feco-Oral Transmission –
What is the Reproductive Number of COVID-19?
A reproductive number of Corona Virus is 2.8 that basically means a person who is infected from such infection may forward this disease to 2.8 new persons usually and unintentionally. Means 100 infected people may spread it to 280 more people if precaution measures not taken by them at the right time. The increment is exponential.
PREVENTION! How to slow down or break the Transmission Cycle of COVID-19 or Corona Virus Infection?
If You feel sick
If more than one COVID-19 symptom appears.
If your children are sick
If someone in youse household has tested positive for the coronavirus
If you are an old person (mainly above 60 years of age)
If you are a person with a serious underlying health condition (eg, heart, kidney, liver, …. problem)
If you fall in any of these categories then you can do the following
It is better to isolate your-self first.

Contact / Meet your Health Advisor as soon as possible.

Work from home and if you work in the critical infrastructure industry and it is not possible to work from home then follow the CDC guidelines to protect yourself and others at work.

Practice Social Distancing and maintain a minimum one-meter distance to any other person.

Strictly Avoid going to crowded places like Mall, Multiplex, Restaurants, Bars or so …

If you want to eat outside food the prefer not to eat outside and use delivery options.

Consider not to travel without any serious emergency.

Avoid going places like Nursing Homes, Hospitals, Long-term care facilities, Retirement or Old Age Home facilities, etc.

Maintain hygiene practices and wash your hands multiple times with soap for at least 20 seconds/wash.

Avoid touching your face, nose, eyes, and mouth. Use disposable paper napkin instead.

Use sanitizer if possible (recommended: which contains 60% alcohol).
Is Ordinary Soap efficient to kill corona virus?
Yes. Ordinary soap is very efficient for preventing coronavirus because of it break-down the outer protein shell of the virus which protects the virus. Please find the below video for the proper hand wash guidance.
---